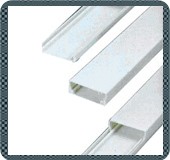 The PVC Casings and Capings we offer to clients confirm the laid IS: 14927 (2) 2001 standards. These products do not have burrs on both surfaces and can withstood against evenly distributed load. Have got excellent rigidity and resistance to flame propagation. The casing and caping are available in size of 20 x 12, 25 x 16, 30 x 15 and 38 x 19 mm.

Applications
Open wiring in industrial/ residential and commercial buildings
Street light and traffic light signals
Wiring on buses, railway coaches, ships, aircrafts etc
Can be used in ceiling suspended ducting, telecom and terminal wiring as well as in false ceilings and sleevings.
Can be used for bare conductors
Salient Features:
Economical as compared to steel conduits and casing
Highly insulated non conductor prevents short circuit hazards
Corrosion free nature
Wide color range available
Uniformity of wall thickness
Maximum internal wiring space
Odorless and impurity less
Available in double locking system
Able to retard the spread of fire and many more
TECHNICAL FEATURES: Confirming IS: 14927 (2) 2001
Properties
Report
1. Construction
No Burrs on both surfaces.
2. Dimensions Mechanical Strength
Maximum internal usable area
3. Mechanical Properties
(a) Distortion Test
(b) Impact Test
(c) Rigidity
(d) Linear Deflection Test

With stood against evenly distributed load
No sign of disintegration of surface.
Excellent.
Not detached by applied load.
4. Resistance to Flame Propagation
Not ignite.
5. Electrical Characteristics
(a) Insulation Resistance
(b) Electrical Insulations Strength

Found more than 100 Meg.ohm
No break down even at 2500 V.